PRODUCT
Instantly Ageless® Facelift in a Box is a powerful anti-wrinkle microcream that works quickly and effectively to diminish the visible signs of aging.
SIZE: 25 – 0.3 mL vials (15 mL total)
Limit of 25 boxes per Distributor per 30 days. Retail sales limited to 10 per person per 30 days.
BENEFITS
Reduce the appearance of under-eye bags immediately.
Visibly diminishes the appearance of fine lines and wrinkles.
Tighten, firm and lift the appearance of sagging skin.
Minimize the appearance of pores for a flawless finish.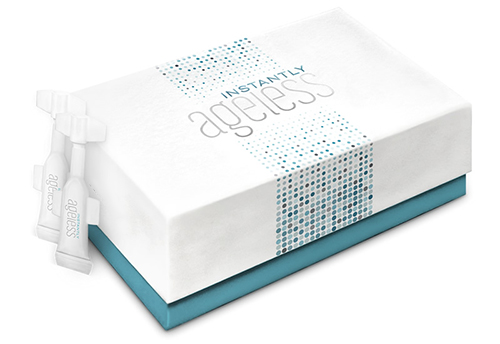 USAGE
Directions:

▪ Gently massage the packet to ensure ingredients are completely combined, as minor separation can naturally occur.
▪ For best results, use your ring finger, an eyeshadow sponge or brush and apply sparingly. Use less than a pea-sized amount.
▪ Once applied, remain expressionless until dry. Fanning the area helps speed up drying time.
Expert Tips:
▪ Remember, less is more.
▪ Once dry, check areas that you may have missed and lightly reapply.
▪ If there is white residue, you've applied too much. To correct, gently pat the white residue edges with a damp cotton swab.
▪ If applying foundation, use oil-free formulas and take care to minimize disturbing the area. For longer-lasting results, use alone or apply powder foundation.
▪ Practice! Just like all makeup application, practice makes perfect in creating a more beautiful you.