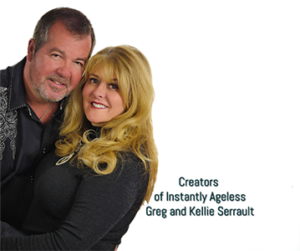 Instantly Ageless® LLC was founded in 2008 by Greg and Kellie Serrault.  In searching for a dynamic anti-aging product, the idea for the Instantly Ageless flagship product Facelift in a Box was born.
The product-line has expanded, and today, there are three products in the line with more on the way.  Instantly Ageless® Facelift in a Box instantly and visibly reduces the appearance of fine lines, wrinkle, puffy eyes, and dark circles. Instantly Ageless® Moisture Lift triggers collagen production and reduces fine lines and wrinkles with continued use.  Instantly Ageless® Sugar Lip Scrub is a rich, emollient scrub and lip balm all-in-one with a lickable sugary peppermint scent and flavor.
The Instantly Ageless® product-line is sold mainly through wholesale channels to spas, medical offices, hair salons, beauty stores, pharmacies, boutiques, and gift shops.
Developed by Anti Age Technologies, LLC and a qualified team of cosmetic chemists, Instantly Ageless®  Facelift in a Box has filled the gap that has been left by countless other products claiming to immediately reduce wrinkles, lines, puffy eyes and more.  After completing extensive research, clinical trials and market tests all of the United States and abroad, Anti Age Technologies, LLC has introduced the world to an amazing new formula that not only incorporates the latest innovations in anti-aging skincare solutions, but that also provides men and women with a safe and effective alternative to invasive, costly and risky cosmetic procedures.  There is no comparison!